Iceland is a gorgeous if a tad expensive country to visit, which I'm glad I had the opportunity to visit on my Europe trip. It's my last stop and probably the most outdoorsy part of my trip. It's the outlier on this whole trip. As I've mostly done cities and spent time in urban areas it's a nice change. It's also funny because the weather can change at the drop of a hat, and I packed incorrectly. I should have brought more long sleeves and warmer outfits, because when it rains it pours and blows like crazy. It also does not get dark here so bring a sleep mask if you're sensitive to light.
When I landed in the Keflavik airport, I thought there would be more public transit options into Reykjavik where my hotel is, but that was not the case. Instead you buy a ticket for this bus with round trip service and central distribution of tourists to their hotels. The hotel actually coordinates the return trip for you. It's about $27 and would've probably been discounted if I ordered ahead of time.
Icelandic Phallological Museum
This is exactly what you think it is. A collection of the male members from various animals across the world, and how they have been used throughout history. It's the largest such collection in the world and officially recognized by the Guinness book of World Records. This was a random stop, and certainly very thought provoking about just how the collection was acquired and how large some of these specimens are. Also many of the exhibits included some of the other internal structures of the phallus. There's also carvings and various art involving the male organ. Overall, a really neat and quite good side show exhibit with some academic rigor especially compared to something like Ripley's Believe it or Not.
Sky Lagoon
This is an outdoor hot spring with an incredible view. I don't think the bathing area was natural, but the water was fed by a natural hot spring. It's set up as an infinity pool with lots of places to sit and lean back. There's a bar with lots of options for a spa. I had a rhubarb lemonade that was a bit tart and really hit the spot after the sauna. There's a 7 step cleansing process that's pretty neat here, but you only get to go through it once. It goes like this: lagoon, cold plunge, sauna (the most amazing photographic view ever), a cold mist room, a salt and oil scrub, steam room, and then shower for the lagoon. It's such an amazing and relaxing experience. Although I would have liked to go back and forth between the sauna and cold mist a couple times. Overall very refreshing and my skin was super fresh afterwards.
I finished up with this before my tour bus arrived to pick me up, so I got a raw sea food platter. I gotta say the pickled herring and gravlox is amazing and more people should give it a chance. It's so incrediblely savory. The bread is thick and hearty with a well developed grain that is just yum. I think the most common bread is rye.
Perlan
So I first saw this when I was wandering around waiting for my bus from the Sky Lagoon. It was a couple of big shiny tanks with a dome in-between them on top of a hill, just a weird enough structure that I had to check it out.
Turns out it's a natural history museum with a lot of neat exhibits involving geology, the wildlife, the hydrology, and Iceland's future with global warming. That section is most certainly depressing, but it's done as part of an interactive exhibit. You can walk through and explore a simulated glacier. It is actually cold, and is meant to simulate the layers that are built up. The structures that form within and all that jazz. It ends with a couple interactive sections that allow the exploration of the glacier over time. I really wish I better understood how the time travel aspect of glacier study works since the layers might melt and refreeze many times.
The Walk There and Back
The bus system is cash only with exact change, so I decided to walk there. That was a magnificent decision. I got to see some back paths, some ruins, monuments, and just how walkable the whole area is. There were abandoned WW2 ruins. An absolutely giant church, I wish I had gone up and checked out the view. There's a really cool artsy district on the way with bars, gift shops, and niche products. Also a lot of really good cafes.
Golden Circle and Blue Lagoon Tour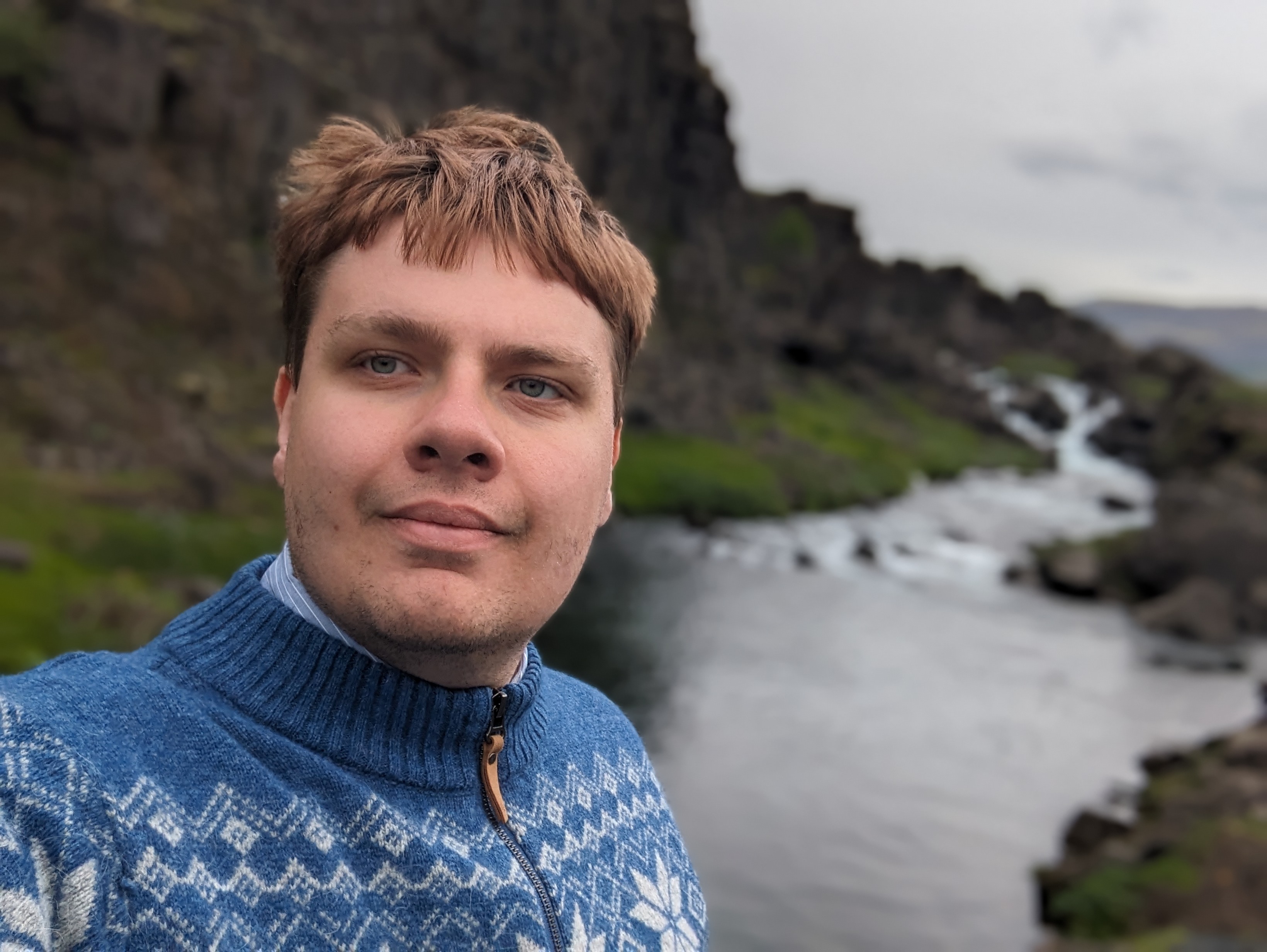 So the pinnacle of my trip was the golden circle tour. It's an 11 hour trip. There's waterfalls, geysers, Icelandic history and a better view of how the island was formed and how it changes. Right before the tour went I bought my self an Icelandic wool sweater jacket, and its my new favorite jacket. It's so warm and comfortable. You have to make sure you pack right for this tour, cause the weather changes on the drop of a hat. The waterfalls will pummel you with cold mist, and it might randomly start raining. The views are so incredibly worth it. You just have to go and do it.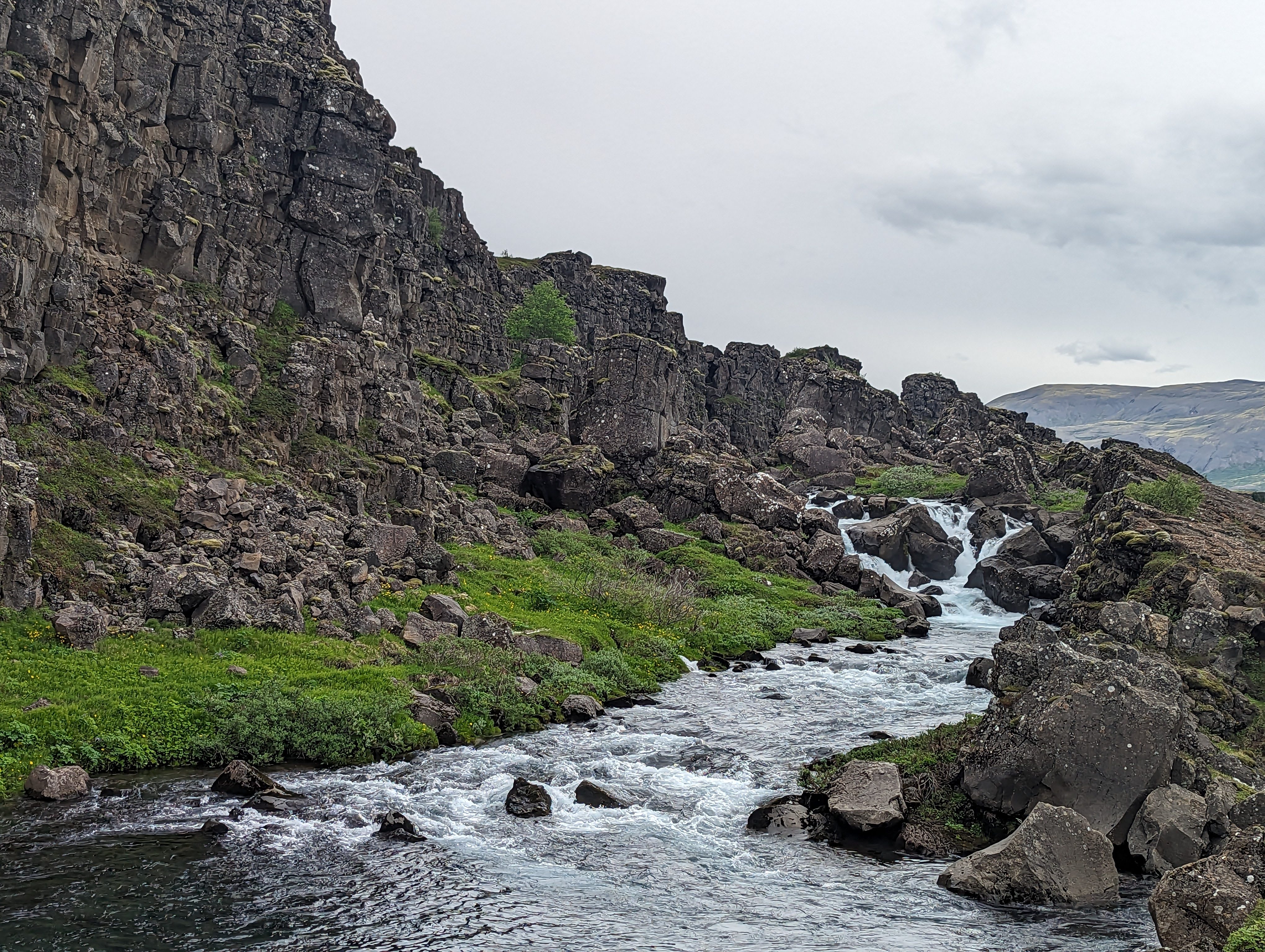 We had the best tour guide. He was so friendly, and I met so many other cool people on board. I learned a lot about Icelandic culture from him, and their current lifestyle. It's a very egalitarian culture where all people are respected without a council of elders saying what is and isn't acceptable. They have this concept of right to wander which allows you to go anywhere.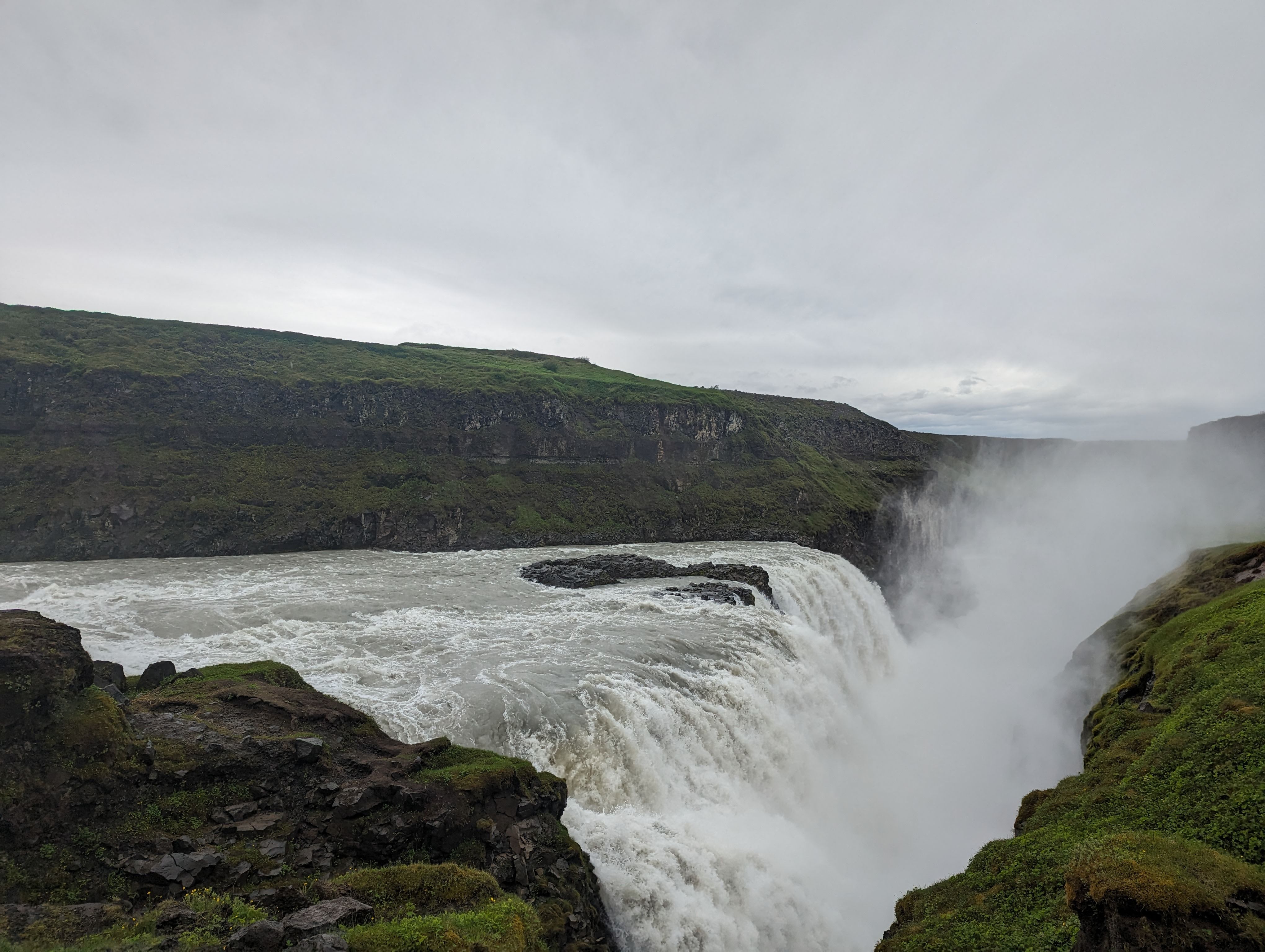 The tour finished at the blue lagoon which is an artificial pool created by accident when there was a leak from a geothermal plant. At first the bottom was rather rocky, but people started bathing there and it helped with various skin conditions like eczema. Eventually some people decided to make it an actual spot to go bath and marketed it right as the place to go. The water feels rather weird compared to sky lagoon because there's a lot of dissolved silicas. There's a facial that was included with my package which I think brightened my face quite a bit. The best part was all the steam rooms and saunas. I cannot get over how cool saunas are in Iceland. They are hot rocks, with a lever to add a bit more humidity to the sauna. It's the best concept ever. Although I do have to worry about the workers at the blue lagoon and their breathing, there's a lot of dissolved solids in the water that might not be easy for the body to remove.
Cafe Before Leaving For The Airport
I went to the Loki cafe for breakfast on my last day. I got a herring toast with some hard boiled eggs. It was very tasty. I also got the must try special with their licorice liquor (very good stuff, brought some home from duty free), and the shark. It was very tasty and had all the funk I wanted to taste. I also got a really good coffee drink with a shot of the same liquor in it. I loved it all.
I then headed back to the hostel, and had some excellent conversation with my roommates. Apparently Iceland is the destination for conferences because most of my roommates were there for academic conferences. I would totally recommend staying at this hostel. It's called the Loft hostel. Sits right smack dab in the center of the city. It's very walkable to all the fun things.
Overall Iceland is an amazing place with a lot of friendly people you just gotta be aware of the cost, but when I went the conversion rate between USD and ISK was rather favorable at least on my credit card, so the damage wasn't that bad. I really want to come back and see the northern lights at some point and get a better understanding of the darkness. Would also pack warmer, maybe buy some actual cold weather gear from a good outdoor brand.